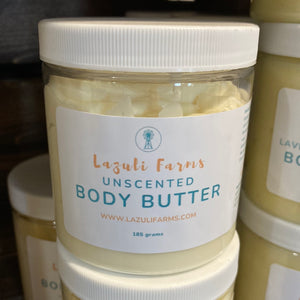 A nutrient-rich body butter designed to leave skin feeling nourished & pampered.  Try tallow-based body butter to help restore your skin to its natural beauty. 
Tallow is loaded with vitamins and minerals which help treat acne, reduce scars, tighten skin, moisturize, promotes elasticity and reduces the appearance of wrinkles.
Ingredients: 100% grass fed beef tallow, coconut oil, shea butter, jojoba oil, arrowroot powder, vitamin E
Instructions:  Wash your hands before using as to not introduce bacteria into the product.  Take a small amount of butter & apply to your skin.  A little goes a long way.

Net Weight: 100 grams

CARE: As with any skin product, sensitivities may occur. Always try a test patch prior to regular use.

Variations in color or texture, or minor separation may occur due to the purity of our products. For best longevity, store in a cool, dry area.

WHY TALLOW?

Tallow is an amazing product.  In its pure form you can use it to cook & bake, on your body, cuts and scrapes, and even on your baby's bottom.  Our ancestors have been using it for hundreds of years as a way to use the whole animal and to honor the animal's sacrifice.

Tallow is made from rendering suet, the hard, fatty layer that surrounds an animal's organs.

Grass fed tallow is rich in fat soluble vitamins A, D, K, & E, & B12 as well as anti-inflammatory, skin-repairing, and nourishing components.

Lazuli Farms products are small batch, handcrafted with love in central Alberta by our family. Expect a luxurious, nourishing experience with each of our products. The small batch, handcrafted nature of our products may hold some slight variations in color or texture but nonetheless be prepared to be blown away by the supple and moisturizing feel.


Shipping:
{FREE SHIPPING on order over $100 from the Natural Living Collection!}