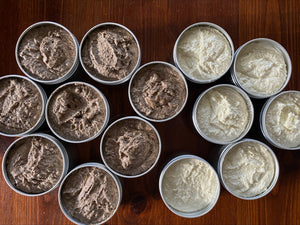 Want to learn how to craft safe, non-toxic personal products & cleaning products at home?
Why not host a workshop for all of your friends!
You can bring your crew to Lazuli Farms or Kylie can come right to you in your home or another location.
Choose from a variety of workshops to learn how to create all-natural, non-toxic products at home for you and your family.  It's a great first step in keeping yourself healthy and avoiding the use of toxic items on your skin and in your home.
Your workshop includes:
facilitated instruction & hands-on opportunities
learning about ingredients, sourcing, ingredient swaps, customization of recipes
troubleshooting the most common challenges
preparation of a product
2 to 3 hours length
room for 10 participants
printed recipes & how-to guides
take-home of products created in the workshop
Book your workshop today and we'll be in touch to work out the details for the workshop!
Housekeeping:
For workshops hosted at your home, there will be an additional cost for travel
added cost for additional participants over 10 (up to maximum of 15)
limited to within 2 hours of travel from farm
Lazuli Farms is located 15 minutes north of Camrose or 45 minutes southeast of Edmonton
weekday evenings and weekends only